your
love-Hate relationship

with IT
Technology is central to almost every business out there today. Without it, businesses find it difficult to maintain operations, offer quality customer service, and make timely decisions. Unfortunately, technology doesn't always run as smoothly as we'd like.
Programs freeze up. Hardware fails. Disasters occur. Hackers lock systems and demand ransom. Chaos is the result of any of these – or other – tech mishaps.
Results-focused business leaders demand a strategic approach to IT systems to not only avoid disaster, but enable and support business growth.
Southeastern Technical is your proactive, responsive, and resilient IT provider.
When interruptions occur, people can't effectively perform their jobs. Operations might come to a screeching halt, leaving customers without service. Decision makers often know what their IT can do for them, but don't fully consider what happens when an interruption of service occurs. A cybersecurity incident or other IT disruption puts your company's reputation, data, and customers at risk. You don't want – and can't afford – to rely on reactive solutions after an interruption of service occurs. A proactive approach ensures little to no disruption occurs.
Results-focused business leaders instinctively need to ensure their long-term goals and vision can come to fruition without being disrupted by a technology fiasco.
Southeastern technical
Solutions
Partnering with Southeastern Technical will help you effectively get the job done. We are committed to providing a proactive approach to IT solutions for our customers, including:
Mobile Workforce
Solutions
Mobile Workforce
Solutions
At Southeastern Technical, we understand there is no one-size-fits-all solution. That being the case, we'll work closely with you to formulate a plan to help your organization realize the business performance you want while simultaneously achieving the growth and long-term goals you've set. Bottom line, we look at the big picture. We know IT interdependence within an organization is critical and we put a heavy emphasis on this aspect of our planning.
People First,

Tech Second
At the heart of every business are the people who work hard every day to help their organization not only operate but thrive. We aim for our tech team to think with their business caps on. Some of the initial questions we'll ask are:
Integrating the latest "bells and whistles" in technology doesn't always equate to the best performance or experience. We take the user experience seriously and focus solely on solutions that will drive your organization to new heights. The "how-tos" for daily operations are at the heart of every smooth-running organization.
As a results-focused business leader, you want the best for your organization, and that includes the partners you choose to work with. The decisions you make matter. We get this. This is why Southeastern Technical is so people-focused with the solutions we present to our customers.
We Take A
Holistic Approach
Our tech staff is highly in tune with what our customers need and take a holistic approach to looking at each organization's "big picture" to put together a robust IT strategy. As a part of our services, we help our customers determine what their core challenges are, identify any IT gaps they have, and then help them to fill in the blanks with the IT services they need. Together, this creates a comprehensive IT strategy.
When we look at your organization's IT strategy, we'll factor in your business goals, risks, operations, IT functionality, software compatibility, and any scalability you might need for the future. Our approach is to identify your core needs, document how technology impacts users' jobs, and determine how long it takes them to perform tasks.
Once we've gathered the information we need, we'll pull it all together to help you to create a strategic IT plan that's efficient, feasible, and, most of all, resilient. Here are the different types of services we offer:
Many businesses don't have large IT budgets or the manpower to manage their IT needs. Managed IT services can help fill in any gaps at an affordable price point.
Southeastern Technical offers full-service managed IT solutions which include 24/7 help desk support, around-the-clock monitored systems, management of your entire IT environment (fixing issues before they become problems), remote and onsite support, server management, and backups and disaster recovery.
We'll help you pinpoint the services your organization might be missing to ensure your systems are reliable and resilient.
Cybersecurity

& Compliance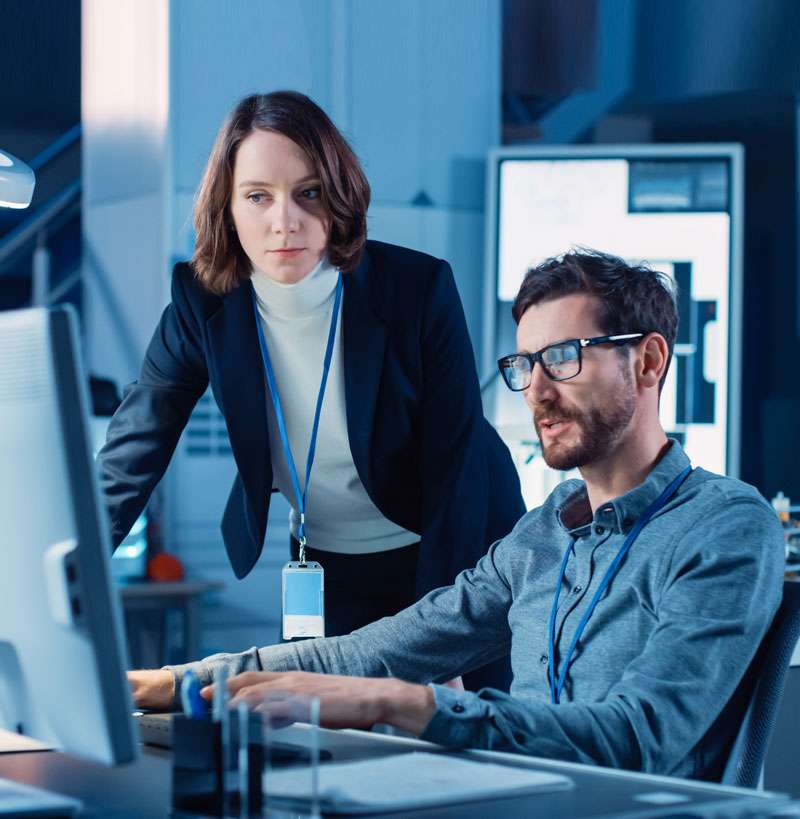 A good cybersecurity plan encompasses much more than a firewall and antivirus software. It integrates cybersecurity into every aspect of your business – from strategy to implementation to support. These days, good cybersecurity strategies require integration into organizational philosophy, so we'll also help bring your team up to speed with cybersecurity awareness training.
Our proactive approach consists of penetration testing (also referred to as "pen testing") to identify any IT weaknesses and routine security assessments, along with vulnerability scans and remediation.
Southeastern Technical will help you achieve a strong cybersecurity strategy with our holistic approach which includes the industry-leading NIST cybersecurity model to develop a comprehensive risk management plan. We'll also ensure your business is protected and in compliance with any regulatory requirements, so you can rest assured you won't be penalized with any fines or other penalties.
IT Projects

& Custom Solutions
As your business grows, your technology needs change. Southeastern Technical will make certain your company has the key technology solutions needed to continue seamless operations and remain competitive.
Our consultants will talk with you, assess your current IT environment, and recommend the best IT solutions to fit your needs, including network design and implementation, server upgrades, virtualization solutions, VoIP phone systems, and procurement and moves.
backups

& Business Continuity
Taking a proactive approach to IT is beneficial in many ways. Any amount of downtime is costly and, if data loss occurs, this would be a disaster. Southeastern Technical's approach to business continuity planning is designed to keep your business running during long-term power outages, cyber-attacks, natural disasters, or any other type of interruption.
Backups are at the heart of any IT strategy. Establishing a reliable way to copy data and applications to offsite storage means your data can be recovered no matter what happens. Our services are designed to ensure your core business functions are never severely impacted by unexpected disasters or events that take you offline.
Mobile Workforce

Solutions
Today's employees work remotely or on the go and Southeastern Technical takes mobile capabilities into consideration when establishing a strong and secure IT strategy. Our mobile workforce solutions help keep your business operating seamlessly. We'll help you integrate collaboration software, VPN, and other custom mobility solutions, such as secure file access, task management, time tracking, and website blocking.
Resilient Companies

Avoid Disaster
Businesses that are rooted in resilient IT are prepared for any unexpected disruption. They are prepared for continuous availability to their customers. Southeastern Technical takes a proactive approach to IT which means your organization is "always on."
Keeps your people productive
Keeps your organization running
At Southeastern Technical, our proactive approach to IT is rooted in Strategy, Security, and Support. Give us a call at 678-807-6156 or contact us online to learn more about how we can help your business gain the resiliency it needs with today's increasingly complex IT environments.